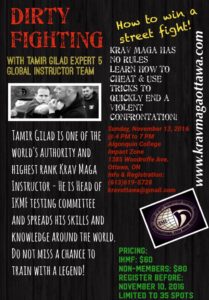 This is the MUST go seminar of the year! Tamir Gilad, Expert 5 and Head of the IKMF testing committee is coming to Ottawa for one day only!
A fight should not be long, and in the street there are no rules- this seminar will teach you "dirty tricks" to quickly end any fight.
Tamir is one of the world's highest ranked Instructor and an international Krav Maga legend! Training with him is a unique experience!
Contact us for details!
When: Sunday, November 13th, 2016 – 4.00PM to 7.00PM
Where: Algonquin College, 1385 Woodroffe Ave., Impact Zone, Building A- Ottawa, ON
Fee: IKMF students: $60.00 Non-IKMF: $80
Open to all- registration deadline: November 10th, 2016
Call or email us for registration