On May 6th, Laurent Mougeot (Head Instructor and Former National Director) and Instructor Sam Miloud traveled to Israel for one week of intense training with the IKMF Global Team at their annual Expert Crash Camp.
The week ended with six hours of  gruesome testing. As a result, our Head Instructor Laurent Mougeot is now Expert level 3, the highest level on the North American continent. Sam Miloud successfully passed his own test and is now Expert level 1. Krav Maga Ottawa is the only school in Canada to have two Expert Instructors among its team.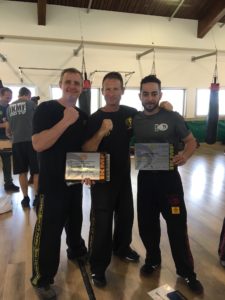 Furthermore, Laurent was officially welcomed into the IKMF Global Team as EIT (Expert Instructors Team member). He is now part of the IKMF elite team of Experts and will be called to travel abroad to train Instructors and teach various courses. Only a handful of Krav Maga Instructors ever make it to the global team and we are extremely proud to have an EIT as our Head Instructor!
Krav Maga Ottawa has become even stronger! We offer the best standards of authentic Krav Maga in Canada and will continue to strive to become even better!