On Saturday, January 27th, 2018 Krav Maga Ottawa will kick off the new year with a special guest Instructor, Master Avi Moyal, chairman of the IKMF and direct student of Imi Lichtenfeld, founder of Krav Maga. You cannot get closer to the source of Krav Maga! Avi is one of three people worldwide to have been granted the rank of Master 2/Expert 7 the highest rank in the IKMF at the moment.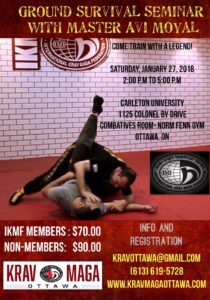 This seminar will focus on ground situations from a Krav Maga perspective – defending against a standing attacker, getting up fast from a take down, fighting on the ground and more…
Do not miss the chance to train with a legend of Krav Maga!
Where: Carleton University, 1125 Colonel By Drive, Combatives Room, Norm Fenn Gym, Ottawa, ON
When: Saturday, January 27, 2018 – 2:00PM to 5:00PM
Cost: IKMF members $70.00 – non-members $90.00
Info and registration: 613-619-5728 kravottawa@gmail.com