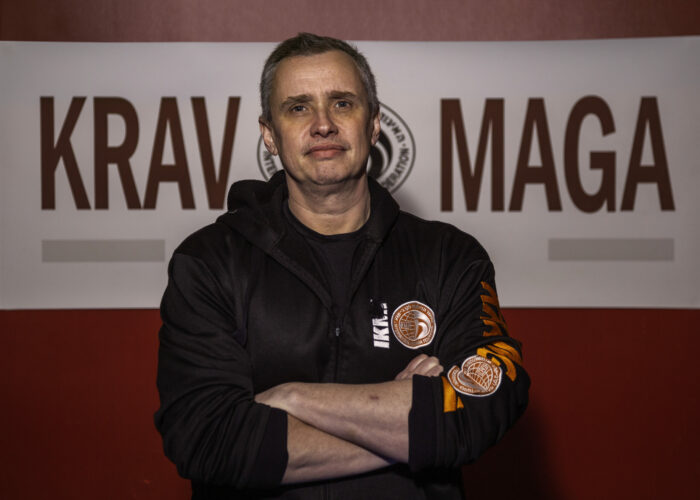 Level Expert 3
EIT
Laurent Mougeot was born in France in 1971 and grew up in a small industrial town where violence ran rampant. Laurent had to fight his way through his entire youth, almost losing an eye to a knife attack at age 13. The need to survive his environment prompted him to start learning Karate, but even after achieving a black belt Laurent found that his skills gave him no edge in street fights.
In 1989, Laurent discovered Krav Maga through one of his Karate Instructors, Jean-Marie Araez, who was travelling to Israel for training. It was a revelation; Laurent understood the difference between martial arts and practical self-defense and fell in love with the brutally simple system. However, when he moved to Canada in 1992, there was no Krav Maga and Laurent resumed training in traditional martial arts such as Tae Kwon Do and Karate. He achieved a second black belt and participated in many competitions, always disappointed with the lack of realism in his training. In 2003, Laurent finally departed from martial arts and started teaching a reality-based self-defense class in Ottawa, immediately finding followers. In 2005 Laurent invited Philip Kaddouch to come train him and his students in Ottawa. The same year, Thierry Cimkauskas moved to Montreal and opened the first branch of IKMF in Canada. Â Laurent started to train with him intensely and participated in the very first Canadian Civilian Instructor Course (CIC) in Vancouver in 2006. Laurent opened Krav Maga Ottawa upon completing his training and has never stopped progressing and growing his school to this day.
In 2010, Avi Moyal, Chair of IKMF, appointed Laurent National Director for Canada. Laurent travelled to Israel in 2012, 2015 and 2018 for Expert training. He is an Expert Level 3, one of the highest level Krav Maga Instructor in North America. In 2018, Laurent was inducted into the Expert Instructors Team (EIT), an elite team of Experts who is in charge of training Instructors and running events all around the world.
Since 2006 Laurent has trained thousands of civilians as well as police officers, the RCMP, armed and unarmed security guards, diplomats posted in high risk countries, mental health workers and bodyguards. He is recognized as one of Canada's authority on security and combat tactics.
Skills and Certifications:
Member of the EIT (Expert Instructors Team)
National Director IKMF Canada (2010-2018)
Expert Level 3 IKMF (2018)
FIMA (Federation of Israeli Martial Arts) Krav Maga Representative for Ottawa (2021)
Certified Krav Maga Instructor for Civilians (2006)
Certified Law Enforcement and Security Instructor (2010)
Certified Executive Protection Instructor (2016)
Certified Instructor for children (2009)
1st degree Black Belt Shotokan (1989)
1st degree Black Belt Chitokan (2002)
Knife & Stick fighting – use of cold weapons- Use of firearms (civilians and security)
Other qualifications:
Psychotherapist specialized in addiction and violence (16 years experience)
Worked as a Counsellor for incarcerated violent offenders
Worked with women victims of violence
Laurent is well known for his pedagogy, sense of humour and patience and for creating a thriving learning environment, focusing on realism and coaching his students with passion to reach their maximum potential.