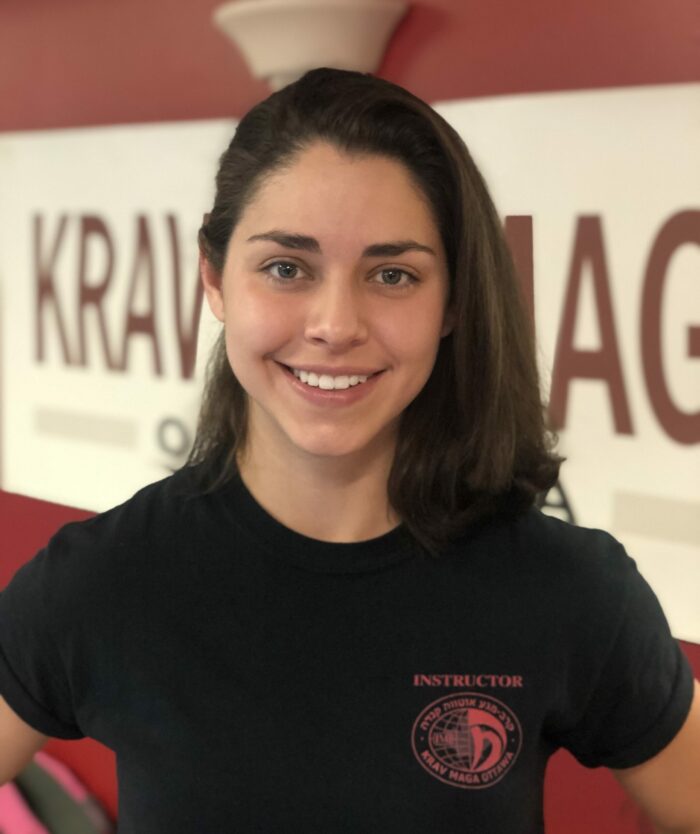 Level G2
Mariana is originally from Mexico City but moved to Ottawa in 2019 to study Criminology and Criminal Justice at Carleton University. 
When she was 15 she started practicing kickboxing. She trained for 3 years and participated in multiple point fighting competitions. After that, she joined Kickboxing Black Belt Mexico (KBBM), fought in the ring, and got her 1st degree black belt in the summer of 2019. 

When she moved to Ottawa she looked for a krav maga school, since she knew it was something that would be needed for her future career in law enforcement. This is how she found Krav Maga Ottawa and started to train with Laurent Mougeot. 

Mariana is an IKMF G2 Level, and in 2021 completed the 20-day Civilian Instructor Course (CIC) and received a Krav Maga Ottawa instructor certification. In 2022 she completed a Civilian Instructor Course conversion with Tamir Gilad (E5) and is a certified IKMF (International Krav Maga Federation) instructor.

She is also a Personal Trainer certified by the World Instructor Training Schools (WITS) and is the co-founder and trainer of FULL BLAST Online Fitness and Health Program. 
She is passionate about fitness, running, weight training and doing Spartan Races. 

Other Certifications: 

* Master's Degree in Criminology, Criminalistics and Criminal Investigation by ISCCJ and IAFI
* Diploma in Criminal Profiling
* Diploma in National Security & Strategic Intelligence
* Forensic Ballistics and Shooting Seminar
* Standard First Aid & CPR/AED Level C by Canadian Red Cross
* Security Guard

Instructors: Laurent Mougeot (Level E3) and Asaf Karpel (Level G3).